As the most reliable and balanced news aggregation service in the world, RWN offers the following information published by Update America
Former San Francisco 49ers quarterback Colin Kaepernick has become a symbolic leader of a #BlackLivesMatter movement aimed at protesting the military-led performances of the national anthem before games in a show of opposition against police brutality — but, more recently, against President Trump. As a result, Kaepernick and his followers on the field have helped fuel a massive loss of viewership for NFL games.
And that's why it struck so many Americans as odd when Nike chose to make the football player-turned-activist into the face of their 30th-anniversary campaign.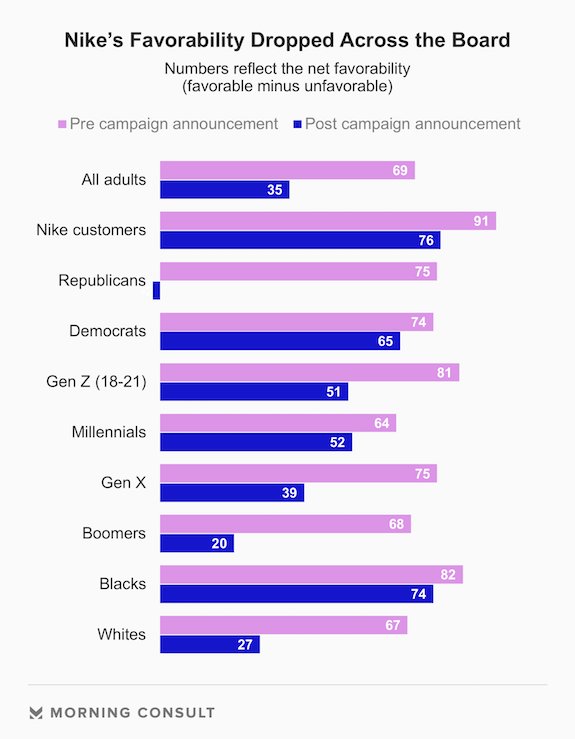 Trump denounced Nike's move as an awful business decision and said, "it's a terrible message they're sending."
Just like the NFL, whose ratings have gone WAY DOWN, Nike is getting absolutely killed with anger and boycotts. I wonder if they had any idea that it would be this way? As far as the NFL is concerned, I just find it hard to watch, and always will, until they stand for the FLAG!

— Donald J. Trump (@realDonaldTrump) September 5, 2018
Now a Missouri college is taking their own stand against Nike and Kaepernick.
According to Yahoo, the College of the Ozarks in Branson, Missouri is dropping its affiliation with Nike for its athletic wear.
The president of the private Christian school, Jerry Davis, announced, "In their new ad campaign, we believe Nike executives are promoting an attitude of division and disrespect toward America."
"If Nike is ashamed of America, we are ashamed of them."
"We also believe that those who know what sacrifice is all about are more likely to be wearing a military uniform than an athletic uniform," Davis said.
Another school official, Marci Linson, added, "Nike is free to campaign as it sees fit, as the college is free, and honor-bound by its mission and goals, to ensure that it respects our country and those who truly served and sacrificed."
The College of the Ozarks has made sacrifices in the name of patriotism in the recent past. It required its athletes to stand in respect for the national anthem, despite that move triggering the NAIA to move its planned Division II men's basketball postseason tournament elsewhere, Yahoo reported.
"I'd rather forfeit a game than forfeit our honor," Davis said at the time.
In addition to taking that stance, the College of the Ozarks is a truly a one-of-a-kind school.
A quote by Davis on the front page of its website declares that "C of O is unique among higher education institutions in America: no tuition is charged, all students work on campus, debt is openly discouraged, and no federal, state or private loans are made."
Will other schools follow the College of the Ozarks' lead regarding Nike?